Hello everyone!
So I did start this series called Ingredient wise on my blog a while back and so far I put out only 1 post under that category..oops! So today I thought I will review the ingredients and the claims made by a product that has created quite the buzz recently. I have not tried anything from Bare minerals since I am not sure if my skin will like mineral makeup but their latest stuff the bare skin serum foundation has definitely caught my interest and I might try it out sometime..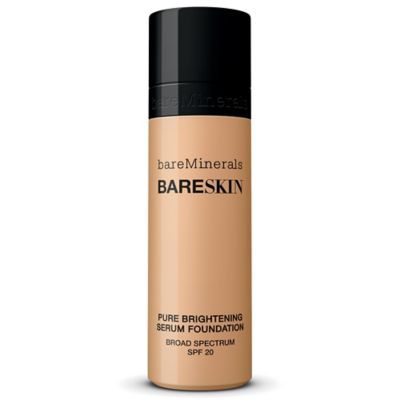 (Picture source: www.bareescentuals.com)
The Claims (from the www.bareescentuals.com website)
Clinically proven tone-correcting mineral foundation and brightening serum in one. Created with exceptional purity in mind, this ultra-thin, skin-perfecting fluid provides seamless adjustable coverage, a natural finish and the look and feel of beautiful skin while delivering a noticeably brighter, more youthful appearance. Made with the bare minimum ingredients and formulated without oil, silicone, parabens or fragrance. It's like nothing you've ever felt before.
Available in 20 skin-perfecting shades.
The Ingredients
Titanium dioxide 11.0%, caprylic/capric triglyceride, coconut alkanes, silica, stearalkonium, hectorite, lecithin, glycerin, maltodextrin, coco-caprylate/caprate, jojoba esters, propylene carbonate, tocopheryl acetate, soil minerals/syringa vulgaris (lilac) leaf cell culture extract, magnesium ascorbyl phosphate, sodium hyaluronate, phenoxyethanol, mica, iron oxides
Do all these claims work?
 The minimalism in the Ingredient List : As you can see in the list above , the number of ingredients listed is in fact far less than what you will find is the case with your average foundation. To me thats great news! Hey if the foundation can work with lesser ingredients that is awesome news for your skin rite?
A Serum foundation providing youthful appearance? : The presence of caprylic/capric triglyceride, coconut alkanes and coco-caprylate/caprate will give it that serum feel. This mixture of coconut alkanes and coco-caprylate/caprate is derived from plant oils (coconut to be precise ) and its this combination that is responsible for the silky and light weight feel on the skin. But does the foundation have the usual facial serum like ingredients ? Well if you take a look at the ingredients you will see, lilac leaf cell extract, magnesium ascorbyl phosphate (more stable form of the anti oxidant vitamin C) , Tocopheryl acetate (vitamin E derivative) and sodium hyaluronate (anti ageing ingredient). However, their concentrations are very small in the final product since they are listed way towards the end of the ingredient list so I would not rely on a foundation for skin care benefits. However, as a cosmetic item , the foundation may still be able to temporarily give you youthful looking skin 🙂
 Formulated without oil, silicone, parabens or fragrance: I think its really cool that this foundation does not contain silicone and parabens. However I feel that the no oil claim is not entirely true. Coconut alkenes and coco-caprylate/caprate are derived from plant oils and is a vegetable oil based solvent. In fact I think this is also the star of the show since it is a skin conditioning agent which does not have a greasy after feel.
Tone correcting and brightening: I don't personally see any ingredients on the list that can help with tone correcting. Tone correction always happens when you apply any decent foundation in my opinion since the the whole idea of putting liquid pigment on your face in your skin tone is to hide redness and other skin tone imperfections so I don't buy the whole clinically proven thingy! The same goes with brightening..the amount of vitamin C in the product is minimal so I doubt its going to brighten your skin. The huge amounts of titanium dioxide might help with brightening since its capable of reflecting and absorbing light.
SPF OF 20 : The very first ingredient listed in the foundation is titanium dioxide so yup your getting some sun protection there. However, as always a full day out in the sun calls for a full on sunscreen 🙂
Overall, I might still try this out at some point since it does look nice on people I know who have purchased this 🙂 . I also like the short and sweet ingredient list and I think what sets this apart from other foundations is the use of coconut alkenes and coco-caprylate/caprate which can mimic the silicone smooth feel on the skin. I feel the rest of the stuff like lilac stem cells are not going to really make a difference to your actual skin…after all this is a makeup product and not a skin care one!
Have you guys tried this out? what do you think of it? Until next time ciao folks!!!